New Products
---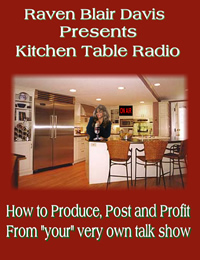 Kitchen Table Radio Broadcasting Course
---
Red Carpet Interviews
Raven and Sherri Shepherd
View more Celebrity Interviews here
---
Our Sponsors
---
---
RED CARPET INTERVIEWS

Raven and Sherri Shepherd

Raven and Tippi Hedren

Raven and Master P

Raven and Marla Maples

Raven and Ellie Drake
STAY TUNED... Videos Coming Soon!
---
Powered by
Listen to Careers From The Kitchen Table: - For the Home Business Enthusiast! on Talk 650 Radio -- Visit: CareersFromTheKitchenTable.com
Your privacy is protected and will only be used to communicate with you regarding the Women Power Radio Network.
Claim Your Free Copy of The Seven Action Steps On 'How to Ignite Your UnStoppable Power'

Enter your first name and email below & receive updates to the shows.
Lindsay Wagner
Click Here
Lisa Nichols
Click Here
Fran Dresher
Click Here
Victoria Rowell
Click Here
Denise Nicholas
Click here

Denise Brown
Click here

Claudette Robinson
Click here
Bern Nadette Stanis
Click here

Jayne Kennedy Overton
Click Here

Tippi Hedren
Click Here

Joyce Agu
Amazing Race
7th Season Winners
Click Here

Stacie J
Formerly on Donald Trump's "Apprentice"
Click Here